~
FreeVenue Chart-of-the-Day (last 25 graphs)


next update: July 20th

PPL Model's Projected Covid19 2020 Fatalities Archive



BC

Ontario
Canada

UK

USA

World

July 15

200

2,825
8,940

46,200
180,000

1,140,000

July 10

189
2,820
8,930

46,000
175,000

1,170,000

July 5

180
2,845
8,910

46,000
173,000

1,170,000

June 30

177
2,890
8,840

45,600
161,000

1,340,000

June 25

172
2,920
8,860

44,700
141,000

1,190,000

June 21st
Actual Deaths:

171
2,657
8,481

42,731
122,468

472,779

June 20

170

2,810
9,000

46,800
145,000

1,145,000

June 16

170

2,940
9,660

48,900
140,000

905,000

June 12

172

3,170
10,200

47,400
141,000

852,000

June 9

172

3,530
9,430

49,200
134,000

640,000

June 6

191

2,770
9,700

45,500
127,000

525,000

June 3

197

2,550
8,470

42,500
122,000

471,000

June 1

216

2,540
8,370

42,000
122,000

466,000

May 30

225

2,530
7,990

41,600
121,000

428,000

May 28

217

2,480
7,870

41,100
119,000

420,000

May 26

225

2,390
7,590

41,600
119,000

420,000

May 24

224



7,470



120,000

420,000

May 22

223



7,300



117,000

409,000

May 20

196



7,040



111,000

403,000

May 18

193



7,135



110,000

406,000

May 16

180



7,125



111,000

396,000

May 14

174



7,025



109,000

381,000

May 12

189



6,850



105,000

386,000

May 10

222



6,900



116,000

393,000

May 8

183



6,860



119,000

339,000

May 6

202



6,475



103,000

352,000

May 4

200



6,000



95,000

386,000

May 2

205



5,900



117,000

380,000

Apr 30

238



5,120



80,000

380,000

Apr 28
forecasts
for June 21st

176



3,960



70,500

314,000

COVID19 PANDEMIC MITIGATION THRUST USA ECONOMY into TECHNICAL RECESSION in MARCH 2020
July 10th 2020 update - The TRENDLines Recession Indicator was the first macro-economic model to accurately reveal the magnitude of the Great Recession in real time. In the 2013 chart below, TRI was forecasting a USA austerity crisis to occur in 2024 due to an uncontrolled $26 trillion National Debt. But that day has been preempted by a black swan event: the TrumpVirus - a crisis of epic proportions in mismanagement, lack of containment & mitigation failures - resulting in 136K fatalities & 50k lost jobs (thus far).

Despite interventions by the Federal Reserve via its monetary policy tool box and fiscal policy injections of trillions of dollars by Congress, it is probable the American economy will suffer long-term consequences. April's "real" Unemployment Rate (U-6) of 22% was the worst since the 26% high (1933) in the Great Depression (see chart below). It appears nominal GDP plunged 16% from February to June 2020, dwarfing the 2008 & 1980 downturns.

Weekly unemployment claims reveal the economy shed shed 50 million jobs over the past 16 weeks (and counting) albeit some sectors are hiring back via Trump's "Opening Up America Again" campaign. The TrumpVirus assures business failures will continue to year end. Nominal GDP did not re-attain its pre Great Recession level 'til mid 2011. In the absence of a vaccine, it is likely this Recovery will last 'til til 2023. And it may take a generation for the Unemployment Rate to recover to its Natural Rate.

If due to the TrumpVirus resurgence and/or an Autumn second wave, GDP declines for at least 4 quarters, this event will have escalated to a defined Severe Recession - if avg GDP over the period exceeds -2%. GDP must exceed -4% for at least 8 quarters for this to be a defined Depression and -8% for four years to be called a Greater Depression.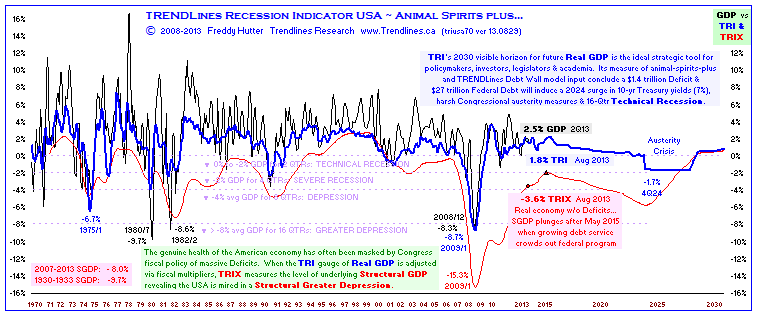 the traditional definitions

TECHNICAL RECESSION:
Avg Gross Domestic Product growth rate (GDP) declines 0% to 2% for at least 2 Quarters
SEVERE RECESSION:
Avg GDP declines 2% to 4% for at least 4 Qtrs (1 yr)
DEPRESSION:
Avg GDP declines 4% to 8% for at least 8 Qtrs (2 yrs)
GREATER DEPRESSION:
Avg GDP declines over 8% for at least 16 Qtrs (4 yrs)
RECOVERY PERIOD:
monthly/quarterly nominal GDP expanding but remains below pre-contraction peak
EXPANSION PERIOD:
monthly/quarterly nominal GDP finally exceeds pre-contraction peak
STRUCTURAL GDP (TRIX):
Adjustment to GDP reflecting fiscal policy Deficit/Surplus to reveal growth rate of underlying economy
UPPER CLASS:
family wealth (net worth) is among the top 1% of society
MIDDLE CLASS:
family income is among the top 10% of society
WORKING CLASS:
all the rest...
U-6 UNEMPLOYMENT RATE: Marginally attached workers are persons who currently are neither working nor looking for work but indicate that they want and are available for a job and have looked for work sometime in the recent past. Discouraged workers a subset of marginally attached, have given a job-market related reason for not looking currently for a job. Persons employed part time for economic reasons are those who want and are available for full-time work but have had to settle for a part-time schedule.


a note from the author to returning TRENDLiners & new visitors...

May 2 2020: In the good ol'e days I posted new charts every day. I had to take a break but recent global events have drawn me back. These Covid19 graphs are my first public postings since 2013. The website has been dormant - hence the tired & dated look - some would say ugly! I promise to improve it over the coming weeks (months?).

Due to the time sensitivity of the pandemic issue, the Covid19 charts will be posted directly to this homepage instead of the normal 90-day exclusive preview at the MemberVenue.

To update loyal TRENDLiners, my 7-yr posting hiatus stems from a decision by Evalina and me to care for my mom with Alzheimers. Now 88, she is otherwise in great physical health and very kind-hearted. She left Woodstock Ontario in 2013 to live with us in The Yukon.


You may recall when I started this website we resided in an ocean-front cabin on the Whistler Sea-to-Sky corridor, prior to our 10-yr engagement North of 60. We loved the Northern Lights and wildlife and were not intimidated by the -47C temps.

But we truly missed our Mediterranean garden and weren't crazy about the mosquitoes & no-see-ums. So when my mom (ex Cocoa Beach snowbird) suggested we all move down to balmy Vancouver Island, there was little hesitation - and in late 2014 packed up a 26' U-Haul for the 2,500-km trek down the Alaska-Canada Hwy back to BC.

Growing up, my dad was my best friend: skiing, seeding the luv of cars & road trips, sailboat racing, fishing, politics, nurturing gardening & landscaping ... and lotsa intellectual stimulation. He died early of prostate cancer in '96.

That said, it was my mom who most of my life subsidized (& was patient with) my hobbies and vices ... especially during the inevitable struggle years most entrepreneurs endure. So for me it was a case of payback time.


If there was a list it would include (but not limited to) gifting me her '67 Mustang after University; assistance acquiring my 4 Firebirds; befriending 3 daughter-in-laws; countless CARE Pkg's; & helping me restore my Morgan NA-40 offshore racing yacht - etc etc.


I'm looking forward to the Georgia Strait regatta circuit & perhaps circumnavigating the Island some day. But I have digressed...

I sincerely never dreamed family home-care would be so demanding and last this long. Mom still lives with us and some day she will enter a nursing home ... but not a wise time right now!

It was when that day arrives I had intended to come back to TRENDLines. As you can see, the pandemic has accelerated my return.

Partly with concern for my mom's vulnerability, I had been watching the BC, Canadian & int'l Covid19 stats. Like everyone, I was of course anticipating the infamous "flattening of the curve" - but I was extremely frustrated most jurisdictions were withholding their models' total projected deaths counts in this politically correct environment.

As each daily-deaths peak went by (April 12th in BC), I noticed the down-slope of the curves were quite similar to my peak oil graphs. A few very late nites later I was able to use my linearization formulae to project BC's MIA total fatalities count. And shortly thereafter I had numbers for Canada, USA & globally. I hope you find 'em enlightening and give y'all some perspective in this first wave.


cheers from Deep Bay Marina, Vancouver Island
Freddy Hutter


July 15 2020 (90-day delay waived!) FreeVenue public release of July 15 2020 TRENDLines MemberVenue guidance




click today's chart to visit its unique page for related tables, guidance, background &/or more graphs - - chart archives @ MemberVenue only




90 days too long to wait? Enjoy real-time guidance charts via Annual-membership special ($25/month); Quarterly-membership for $36/month; or for short-term projects donate $50 for full MemberVenue access from today 'til Aug 30th 2020.





~

send email to Freddy Hutter with questions, comments or navigation corrections with respect to this web site
~ Last modified: July 15, 2020 ~ (© 1989-2020 Trendlines Research)



keywords: projection prediction forecast indicate guess estimate how many people will die perish in bc british columbia canada canadians usa americans united states globe world worldwide earth result from corona virus covid-19 pandemic flu death toll daily total cumulative fatalities perish victims trendlines freddy hutter CDC IHME model pplm post-peak linearization social physical distancing



---
FUTURE FATALITIES FORECAST: 560,000 WORLDWIDE
PANDEMIC MAY BE CROSSING HALF-WAY POINT THIS WEEK!
USA 41,000; UK 1,200 & CANADA 90
due to NOVEL CORONAVIRUS COVID-19

July 15th 2020 - Today's update of TRENDLines Research's fatalities model indicates these targets based on recent trends: 1.14 million global deaths (present toll 580K + 560K future); 180,000 in the USA (139K toll + 41K future); 46,200 in UK (45,000 toll + 1,200 future); 8,940 in Canada (8,850 toll + 90 future); 2,825 in Ontario (2,770 toll + 55 future); & 200 victims in BC (189 toll + 11 future) due to Covid-19 novel coronavirus.

New post-peak lows for daily-deaths were set in July in the USA, UK, Canada & Ontario. But relaxation of lock-downs, physical distancing, masking, testing & contact tracing has vaulted worldwide daily-deaths to 4,300 ... up 61% over the post-peak low set in late May.

The chart & underlying stats of TRENDLines Research's post-peak linearization model (PPLM) are updated twice weekly at www.trendlines.ca


WORLDWIDE
Based on July trends, TR's PPL model forecasts yet another 560,000 Covid19 deaths across the globe by year end. Added to the present toll of 580K, the total 2020 count should reach 1,140,000 ... almost double the projection issued (see table) just five weeks back! Today's figures suggest the pandemic crossed the half-way point this week.

We believe these pandemic numbers to be quite conservative considering in many nations the Covid fatality counts are far below their published "seasonal excess deaths".
The highest daily-deaths' currently occur in Brazil, USA, Mexico, India, Peru, Iran, Russia, South Africa, Iraq & Chile.

It remains an outrage that in this sixth month of the pandemic far too many health workers & first responders around the world still lack sufficient personal protective equipment (PPE) and timely accurate testing.
Worldwide fatality rate: 75 deaths/million population
USA
Similarly, the model projects another 41K deaths in America. Added to the present toll of 139K, the 2020 fatality count may reach 180K.
How did the USA embark on this health crisis? Here's a clue: During a White House Rose Garden virtual town hall on March 25th, the President stated to the Fox News host:

"You'll have packed churches all over the country. It would be a resurrection of biblical proportions. I would love to have the country opened up and raring to go by Easter. It would be a beautiful thing. "Our country has to get back to work, otherwise it's going to be very hard to start it up again. We can't lose the the advantage we have."

It was on this precise day America was infected with "the TrumpVirus". On that day the USA had only 4% of global Covid deaths - apropos considering the nation has 4% of the world's population.

But it marked the day everything changed. And leads one to ask why then does the USA today have 25% of known world Covid cases & 24% of global body bags? The answer is founded in its citizenry electing a reality show celebrity as its President. His failure to mitigate Covid-19's spread runs the length of his stay in office.

Albeit Obama's Homeland Security Chief (Lisa Monaco) briefed the incoming transition team with a robust "playbook", un-indicted Individual-1 shut down the White House's National Security Council's Pandemic Unit in 2018. Dr Dennis Carol's Predict Program was cancelled by the White House in 2019. And 'cuz their very public warnings were rocking the stock markets in Feb/2020, CDC's renowned disease experts Sarah Messonnier & Dr Bright were abruptly reassigned.

This prudent planning team was replaced by a muse "this flu will just go away with warm April sunshine". After his "miracle" failed, the self-proclaimed "very stable genius" offered his cult following hydroxychloroquine, disinfectant injections and internal UV light remedies.

And it appears many continue to drink the Kool-Aid (or bleach?). Prior to flattening their curves, mostly "red States" have been relaxing physical distancing, stay-at-home policies & masking. 31 States experienced a rise in their new daily cases curve last week.

From its onset it was evident Trump's "Opening Up America Again" campaign was rooted in politics. Despite his bravado, to that point in time he failed to attain Obama's multiple 5% GDP growth rates. 2020's Q1/Q2/Q3 were his last-kick-at-the-can - hence his nonsensical dampened pandemic rhetoric thru January, February & March. With Q1 going negative (-5%), he knew a large part of his Nov/2020 Election demise rested on Q2 & Q3 GDP.

So the motive for his March 25th plea (above) for Easter church goers to return to work April 14th is clear. As a ratings savvy guy, he knew Q2 GDP (for Apr/May/June) would be announced July 30th (with Aug27th & Sept30th revisions). The Q3 GDP announcement is Oct29th - a mere five days prior to Election Day (Nov3rd).

At this time it appears Q2 will decline 13% prior to a 5% rebound in Q3. With no sign of his boasted V-shaped Recovery, Individual-1 is poised for some desperate manoeuvres ... like forcing schools to re-open in September!

In short, he risked a TrumpVirus resurgence only for the purpose of salvaging his legacy. He desperately wants to avoid voters going to the polls with the realization that The Donald (alone) was at fault for April's 22% U-6 Unemployment Rate & plunging the U.S. economy into its deepest crash (-18% GDP) since the Great Depression.

45% of victims resided in long-term care facilities.

USA's fatality rate: 414 deaths/million (7th worst in world)

UK
The model predicts 1,200 additional deaths in the UK. Added to the present toll of 45,000, the 2020 total fatality count should be 46,200.
The UK comprises only 1% of global population but has 8% of the Covid19 deaths. 37% of victims lived in long-term care homes.

UK's fatality rate: 676 deaths/million (2nd worst in world)
CANADA
The model estimates 90 more deaths in Canada. Added to the present toll of 8,850, the total 2020 fatality count could reach 8,940.
Canadian media (CTV & CBC) annually expose nursing home neglect and under-staffing, so there's no surprise that this sector saw the most confirmed cases. 82% of fatalities-to-date are long-term care and seniors home residents/staff. Not a single American State exceeds this metric.

Canada's fatality rate: 238 deaths/million

ONTARIO
The model projects only 55 more deaths in Ontario. Added to the present toll of 2,770, the 2020 fatality count should end at 2,825.
Recently added to the model runs. Ontario has initiated an Inquiry Commission due to the crisis in long-term seniors care facilities.

Ontario's fatality rate: 188 deaths/million

BC
The Province suffered a handful of deaths last week, but with a mere 14 persons hospitalized presently, the model predicts only 11 future Covid19 deaths in BC this month. Added to the present toll of 189, the total fatality count should be 200 ... excluding unforeseen outbreaks.

British Columbia & Washington State were the first North American regions to see confirmed cases take off. Wise leadership quickly contained the spread and both jurisdictions are on paths to normality. Credit to BC in being among the first to bar family visitations to nursing homes and disallow care workers from attending multiple long-term residences.

Residents of BC long-term facilities comprise 73% of total fatalities. BC boasts an incidence rate of only 59 cases per 100k population (16/100k on Vancouver Island).

BC fatality rate: 37 deaths/million


The TRENDLines Research POST-PEAK LINEARIZATION MODEL (PPLM)
These six Covid19 projections are generated by TR's linearization model. It analyzes the subtle changes in a jurisdiction's daily-death rate after the curve's peak - particularly the most recent days & weeks. The graph's data points move left to right chronologically above its date's cumulative death toll on the x-axis. The intersection of their trendline at the x-axis indicates an estimate of the ultimate total deaths. As daily data points are added, a high y-axis data pt (high fatality rate) will shift the bottom of the trendline to the right and a higher fatalities count ... and vice versa.

There is no medical component aside from tracking daily & cumulative fatalities. This strictly mathematical model analyzes nuanced gradient changes in a curve's down-slope. This same methodology has been one of the criteria by which TRENDLines Research has produced global & Saudi Arabia oil reserves since 2004. On request, I can similarly chart any Nation, State, Province or Region - presented alone or with comparatives.

About TRENDLines Research
Data analyst Freddy Hutter of Vancouver Island BC has developed models & methodologies for macro-economic charts & guidance for policy-makers, stakeholders. legislators, investors and the public with a long term multi-disciplinary perspective since 1989. TRENDLines removes the noise in economic data to reveal the underlying trends. Specialties include: Recession Indicators for Canada, USA & China; Realty Bubble Indicators for Canada, USA, UK & Australia; Global Oil Production & Price Component analysis/forecasts; & national, provincial Party & Presidential political election projections.

Enter MemberVenue (real-time charts)
click here to view benefits of annual-membership (only $25/month!) or quarterly-membership ($36/month) or $50 fee for project access
~
the FreeVenue chart-of-the-day is a public posting of guidance (charts, tables & analysis) @ our MemberVenue ... but with a 90-day delay. Access to the real-time charts & full chart archive (from 2004) is available via Annual-membership Special (only $25/month); or via $36/month Quarterly-membership; or for short-term projects just donate $50 for MemberVenue access from today 'til the end of following month!

Trendlines Research has been publishing charts & analysis relating to Peak Oil, Macro-Economics, Climate Change & Political Election Projections since 1989. Data analyst Freddy Hutter's media and professional commentary on these issues commenced in 1973

please support research by TRENDLines with a donation to keep my site "ad free"
~




clik to follow @TrendlinesDotCa for new chart alerts

I'm pleased to tell TRENDLiners this past Summer 85% of visitors were International (120 nations: most from USA, UK, Australia, France, Germany, Spain, Italy, Japan, India & Singapore)

Members & Media with query or comments are welcome to email or skype me (freddyhutter) for chats, phone or video-cam